My Adventures and Experiences Trucking
2006 and 2011
For two years I worked as a truck driver. Some days I absolutely loved it. You will see the sun rise over a mandarin horizon, or dew on the green rolling hills of Tennessee. Other days your knuckles will turn white from tension as you plow through 2 foot snow drifts going downhill across Eagle Pass in Colorado. Everyday is a new experience. You will see accidents, dead animals, construction, and if you are lucky enough to drive OTR you will rarely see the same place or people twice.
In 6 months you are pretty much going to see the entire United States. In the two years I drove I visited every state except for Maine.
My driving adventure first started in 2006. Training was sponsored in advance from the Swift Academy and completed in a temporary school they operated in Kansas City.
As far as the demand goes, and as long as you can stay alive and out of accidents you will have good job stability. At the time I went to trucking school many large companies offered 3 to 5 week training programs that are usually compensated back after 1 year of employment.
Training
I began my training with Swift which gives you a crash course in driving. The real learning comes later when you are alone 200 miles from civilization.
Training consist of 1 week in the classroom learning from textbook, which includes learning how to do a pre-trip inspection, laws for truck drivers, and mechanical instruction. On the second week you will learn how to shift gears, control the vehicle, and connect to a trailer. The third week of classroom training consist of taking turns driving around the local community terrorizing four wheelers.
At the end of your training you will take a company truck to the DMV or authorized CDL test contractor where you will get a chance to show off how well you can inspect, and drive your vehicle while someone is watching.
Beware of Sleeping at High Altitude
Unless you are super fit DO NOT stay the night at this altitude, you will get altitude sickness and it will not go away till you get off the mountain.
The Best Part of Training
Once you have your CDL you are not an official trucker yet. In order for the companies to insure you over the road they will need to trust you first. This is where most companies will pair you up with a driver to team up with for anywhere between 3 and 5 weeks. If you take a prolonged break in driving companies may require you to drive for a mentor again before giving you your own keys.
Some students find a bond with their mentor that last a lifetime. Other people find themselves in awful conditions with terribly lonely trainers.

Don't wait till it happens! Read the owners manual BEFORE the roll event.


It is hard to imagine moving 24 hours a day, 7 days a week for weeks on end. Eventually your body gets used to the constant conditions, and it is when you take a break that you get "sea legs". For me that usually meant I would be very tired the first two days I stopped driving with occasional episodes of vertigo.

When you mix the stress of driving an over-sized vehicle on unknown roads, in various weather conditions, with a restaurant diet, and then mix in bad company in a confined space you must learn to be very tolerant.

I have had the pleasure of driving with 4 mentors. One I fired for throwing things in the cab while I was driving. Two of my other mentors and I got along really well and I still keep in touch with my last mentor to this day.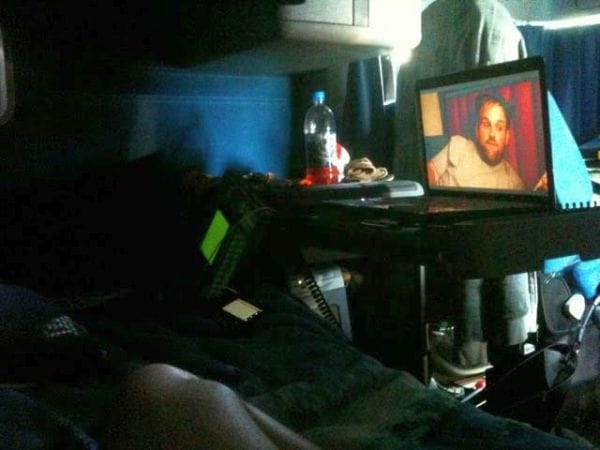 Picture of me relaxing in my truck after work.

Watching TV shows on my laptop over dinner. Companies usually will match you with a mentor based on gender class and smoking preference, but they do not always have enough mentors available which means a long wait after training (one time I waited two weeks for a non-smoking mentor).

Once you make it through training, trucking is going to be a whole different world.

Different companies attempt to provide comforts for it's drivers in their own ways. JB Hunt has cars to borrow at most of it's terminals so drivers can run into town and get supplies. Swift provides no such thing, but has very large terminals which almost always have vending machines, comfortable chairs, big screen TV, and sometimes air conditioning.
They also have 12v coffee pots, for those that like to drive around with a scalding carafe of coffee. While some truckers seem to rough it, others have all the benefits of home right in the rig with them. There is about every appliance you can think of in a 12 volt version. You can get coffee pots, TV's, and cooler chest all that run off 12 volts without an inverter. If you get an inverter then you can install microwave ovens and small refrigerators.
Everyone has a different idea and expectation for comfort. Ex-military is prevalent among truck drivers as they are used to long stays away from family and operating in harsh conditions without the option to surrender.
Team Driving VS Solo
You will get to stop by and have dinner with family that lives in far away places. Above is a dinner visit with my Dad in Albuquerque in 2011.
Driving with a partner and driving solo presents you with two entirely different experiences driving a truck. I have done both. I prefer to ride with a partner, but not necessarily a co-driver. Some companies allow you to have a ride on passenger for a small insurance payment each month.
Most companies have been withdrawing their pet policy's so make sure you check your companies policy before you accept a job if you plan on bringing a pet.
Team Driving
Pros:
Have someone to spot you backing in tight places.
Have someone to talk to. (Moral support)
More money (team drivers get paid more, and if you are a couple you will get paid 24/7)
Keep a consistent schedule (I would drive 4pm to 4AM and my partner 4AM - 4PM)
You will receive time sensitive loads such as FedEx.
You will also get much longer runs. (More miles between stops.)
More opportunities (Trucking companies make more money / miles from teams, and some companies only hire teams.)
Cons:
Tight quarters make getting along most important.
Always moving (try sleeping in the middle of the highway going 63 1/2 mph.)
You will need to sleep with the safety net attached over the bed for safety.
Sea legs if you have been driving a long time (More than 4 weeks straight.)
Solo Driving
Pros:
You are stopped while you rest. (Good nights sleep)
More storage space (Small living space.)
Solitude
Meet more new and strange people.. usually only once.
Less need to go home.
Cons:
Lonely (Very long 11 hr days alone.)
Backing takes longer (Without a spotter.)
Shorter runs
Less money
Travel
I can think of no better way to see the country by traveling while getting paid. Flight attendants mainly see hotels and the top of clouds. As a truck driver you will see the United States in it's entirety. True most of it will be going 63 mph in the dark, but every now and then you will see something worth seeing.
The Job
In 2011 I found myself without a job in IT, so returned to the road once again. Since I had not driven in 2 years and did not renew my CDL I had to go back through driver training. Swift provided once again the same 3 week training, as well as another 3 weeks with a mentor.
The Work
The work hours are long and most truckers including myself pushed the limit. The law says you have to take a 10 hr break after 11 hrs of driving within a 14 hour work period. You can also drive a maximum of 70 hours a week. Once you have reached your 70 hours in 8 days you must take a 34 hr reset then you have a fresh 70 hrs to go.
Those were the rules as I knew them in 2011. After a quick glance at the DOT website I have learned they have further complicated the HOS (Hours Of Service) laws. For updated information go to their website HERE (updated 2023).
When I drove team we rarely ever needed to take a 34 hr reset because one of us always had some hours left, but this is where being a solo driver takes considerably more planning to get the loads done on time.
As a solo driver I would drive from the early morning around 2 am and be safely parked for the night by about 3 or 4 pm. I would consistently drive more than 10 hrs a day in order to maximize my miles. Once I completed my 70 hrs I would get a motel nearby for a 34 hr break. This took some very quick research to find a place nearby with parking big enough for the rig, but the breaks were always well worth it. Google earth works very well for checking hotel parking lots, or nearby lots. During the break I would typically do my laundry, clean the truck, and purchase supplies. An air conditioned motel room is paradise for a trucker.
In my short experience with smaller companies (JB Hunt) it is sometimes hard to get enough miles to fill your 70.
Since you really only get paid while you are rolling I considered myself at home as soon as I shut the truck off and performed a post trip inspection. There do come circumstances where you will break down, get snowed in, or just simply end up somewhere where more loads are coming in than going out. During these times you do not make any money. Sometimes the companies will pay for your motel during certain circumstances such as engine breakdown, but YOU are still paying your bills. Some drivers will also tell you fairy tales about their paychecks, and not all drivers get paid the same. There is no way to really tell how much a particular driver makes but I can give you some sample figures from my experience.
All amounts are per week.
2006 - OTR Swift Transportation - Team Driver - 16 cpm split

Lowest paycheck $275
Largest Paycheck $900
$38,000 annually first year

2007 OTR JB Hunt Solo Driver @ 36 cpm

Lowest Paycheck $380
Largest Paycheck $800
$40,000 a year

2011 OTR Swift Transportation Solo Driver 26 cpm

Lowest Paycheck $550
Largest Paycheck $970.

At Swift in 2011 I was a Platinum Level Driver which means I drove a Minimum of 10,000 miles a month with no accidents or late deliveries for a year. In return there were a few perks that most drivers do not have. My favorite was that 24 hrs before my delivery time I could send a macro (message) using the Qualcomm (gps and communications computer) and I would get the option to choose my next load out of three options. This is awesome because it enables you to have more control over where you travel. When there is snow up north the south is a nice break.

Did I mention that it helps to have a love for driving? This is by far the biggest part of your day. As an OTR (Over The Road) driver you will rarely unload trailers, and in the even you do, you will be paid well for your efforts. Most large companies have 90% no touch freight, and in my experience that usually means about twice a year for an OTR driver unless you request more.

This profession has a very high turnover rate. I have heard it fluctuate between 80% and 100% for drivers in their first year on the job. You will only know if it is for you by trying it though.


Selfie I took during a flat tire incident in training.

For me trucking was an experience of a lifetime. Everything we own has been brought by a truck. If truckers stop the country stops. This is not an easy job by any means. There are long periods away from home, you will work in all weather conditions, and everyday your life is on the line. You will drive 70 hrs a week and only get 4 days a month off.

You can save money, but that means you will need to make a LOT of sandwiches. Truck stops and restaurants charge a premium, fast food is plentiful but will kill you, and you only have a very small refrigerator that will be only half as cold as a home unit. Both years I drove a truck I put my belongings in storage and gave up my apartment. On breaks I would stay with family or at motels.

If you are a driver I salute you. If you are considering driving I highly suggest the experience. If you have questions contact me and I will be happy to discuss my experiences.

Drive safe my friends!
Connect with me.